Desktop as a Service (DaaS) – OneCloud DesktopTM
Evolve IP's OneCloud Desktop is a cloud-based, unified desktop solution. Delivered as a Service, OneCloud Desktop frees your business from the endless cycle of purchasing, supporting, upgrading and ultimately replacing local PCs by providing an untethered "virtual" workspace that can be accessed from anywhere at any time on a variety of devices for a predictable monthly fee.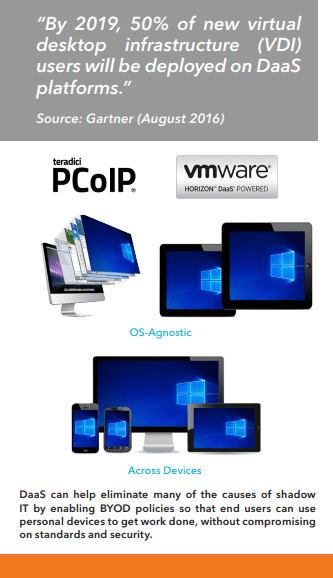 In addition to data protection, security and compliance concerns, organizations are struggling to manage and deliver IT services to end-users with traditonal PC-centric solutions. Cloud-hosted desktops offer a streamlined approach to delivering, protecting and managing Windows applications while containing costs and ensuring that end users can work anytime, anywhere, on any device. OneCloud Desktop empowers businesses with anytime, anywhere, any device access to business applications, data, communications and IT services. The Desktop as a Service (DaaS) offering is a complete, business-ready solution delivered as a cloud service with predictable, pay-as-you-go monthly billing.
Why Virtualized Desktops?
By leveraging Virtual Desktop Infrastructure (VDI), IT managers are freed from the need to "touch" each desktop for support or delivery of new applications, saving time and keeping productive. And since all of their "work" is being done in the virtual private cloud, your organization can extend the usable life of older computers, replace them with inexpensive thin clients and even provide secure
access from Home PCs, laptops and mobile devices.
Business benefits of the Evolve IP OneCloud Desktop:
• Management – Easily manage cloud-hosted virtual desktops and apps from a single console. This includes desktop images, virtual machines, user assignments, applications and 1:1 persistent virtual desktops. Optionally, IT can manage their cloud-hosted desktops and apps with existing enterprise tools.
• Productivity – In addition to users being able to work anywhere / anytime, application performance can be optimized by having back-end servers and client workloads operating out of the same data center.
• Finance – The entire organization becomes more productive while hardware costs and CAPEX go down. Additionally, utilizing DaaS, you eliminate the need for costly VPN and remote access solutions.
• Security and Compliance – With built-in security capabilities such as secure point-to-point network connectivity, dedicated compute, and network isolation, corporate data and applications are secure. Data privacy is ensured because data is never downloaded, stored or processed on the local device — it's only displayed on the device — and the compliance considerations put in place for your core server infrastructure are extended to the desktops.
A Windows 10 Desktop in the Cloud
The OneCloud Desktop, powered by VMware Horizon DaaS 8, delivers on the demand for BYOD and mobility while addressing IT concerns over desktop security and management. And, all for a predictable monthly fee. With a variety of seat options to meet the diverse needs of end-users', the desktops include the following as standard features:
• Virtual Windows 8 or 10 Desktop
• Support of Windows 10 Enterprise OS with E3 and E5 license options
• PCoIP provides a seamless desktop user experience, rich media content and access to local USB peripherals
• Blast Extreme and PCoIP delivery protocols provide access from Windows, Linux, Mac, various zero/thin clients, iOS, Chromebook, Android and HTML 5-compliant browsers
• Consistent and secure desktop experience, redirecting user profile data to a dedicated, hosted Evolve IP file server with options to backup / replicate for geo-redundancy
• Add any application that you own to your desktop image
• Integration with Office 365TM, Hosted and Dedicated Exchange
• Integration with Trend AV for virus and malware protection and support for BYOL
• Integration with your Active Directory (AD) and app servers or your hosted IaaS systems
• Infrastructure and maintenance from a dedicated service provider with self-service pro-visioning and management via a Web-based Management Portal
High Performance, Secure Desktop Service for even the most tightly governed business segments 
The DaaS solution includes virtualized desktops and supports East Coast-West Coast geo-redundant infrastructure, hosted in the Virtual Private Cloud. Our Tier 4 cloud infrastructure delivers services pursuant to our audited SOC 2 certified best practices.
DaaS Infrastructure Bundle
Sold as a bundle, the standard configuration includes:
• 2 AD Servers to increase resiliency and integrate with your on-premises AD
• Cloud Firewall
• Clearlogin Basic License
For Remote Management and Monitoring (RMM), use your existing tool or subscribe to our service for simplified vendor management.
Desktops
Options of 4, 8 or 16 GB of RAM each sold on a per-user basis.
Custom Solutions
The OneCloud Desktop delivers busi-ness-ready workspace environments de-signed to meet the market demands for workforce continuity, security and management. To customize your solution, Evolve IP simplifies vendor management, offering services that seamlessly integrate
with your desktops. Additionally, there are many options for BYOL.
MicrosoftTM Solutions
• Managed Office 365
• Thick Office clients in our multi- tenant DaaS environment
• Virtual Data Center integration with server environment
Security and Compliance
• Personal and Shared storage and backup via IaaS or Cloud Backup
• Desktop DRaaS
• Backup for Office 365
• CiscoTM UmbrellaTM Web Filtering
• MimecastTM Email Security
• Trend Micro TM Deep SecurityTM
• Evolve SYNC TM for Enterprise-grade File Sync and Share
• Remote Management and Monitoring
• Mobile Device Management
• The Compliance Cloud TM offering PCI DSS, HITRUST and HIPAA-compliant solutions
• Alert Logic © Log Manager and Log Review
• Clearlogin TM for SSO and Identity Management
Professional Services
• Help Desk
• Patch Management
• Consulting
Need Thin Clients? We offers Thin Clients (as a Service) with Thin OS 8.4 (or better) and PCoIP support