Business Telephone System Solutions
Triton Communication, Inc. is a full service telecommunications company serving all of the United States since 1982. Since our beginnings as a contractor providing installation service for Seimens / Rolm, Triton Communication, Inc. has grown to become a single source for business communications solutions for an expanding base of satisfied customers. We are very proud to say that many of our original customers are still with us today.
Like our customers, Triton Communication, Inc. values quality of service above all else. Ongoing training in design, installation, quality assurance, safety and customer support ensures that we retain that level of excellence.
We train and promote from within. This encourages our well-trained technical and service staff to take pride in their work and take that extra step to assure that each customer is given the same timely and attentive service. Please review our products, services and qualifications, and we are certain you will find that Triton Communication, Inc. will be a valuable source of assistance to you and your company.
Triton / Wildix UCaaS
The first 100% secure, easy-to-use, professional web-based UC&C system designed to help you reach your goal: increasing revenue through converting more leads into customers. For companies that want to increase their revenue and productivity with a secure-by-design tool. Only Triton allows customers to communicate in the way they prefer from one single interface, from any device and also from the website, by connecting the company website with WebRTC.
With Zultys Cloud Services, you get secure and reliable, enterprise-class service without the enterprise-class cost. We put everything in the cloud, so there is less to manage, and it is "future proof" with additional features and functionality immediately available as developed. No more new phone system every five to seven years. This could be the last phone system you'll ever need!
Zultys Premised Based
The MX-E and MX-SE premise-based IP phone systems include a SIP gateway right out of the box. Zultys MXvirtual is a fully integrated unified communication solution and IP phone system in a VMware®-Ready virtual appliance.
Innovative, reliable and scalable, the MX series of IP phone systems integrates voice, video, and other business-enhancing features such as Unified Communications, integrated Fax, Voice Mail, Contact Center, Presence, Instant Messaging, Zultys Mobile Communicator™, integrated MXconference™ audio conferencing and more, to optimize collaboration and communications for businesses of all sizes.
The features and operation of the MXvirtual and premise-based MX-E and MX-SE are identical and can be integrated into a company-wide MXnetwork™. The Zultys MXnetwork feature enables multiple IP phone systems to be connected in a peer-to-peer architecture to provide organization-wide Unified Communications across 128 different locations with up 10,000 employees total.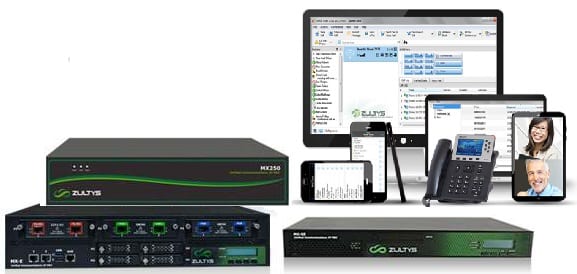 Intermedia Unite is the new, cloud-based unified communications and collaboration platform that joins a next-generation, full-feature phone system, with mobile and screen sharing, HD audio and web/video conferencing, backup and file sharing, and much more, all integrated into one highly reliable, highly secure, unified, UNITED communications platform that is going to transform the way you do business.
The perfect platform for small to medium sized businesses that want to grow their organization and be competitive in the marketplace. Smart Communications for Small and Medium Businesses
The UNIVERGE SV9100 Communications Server is a Unified Communications solution that is ideal for small and medium-sized businesses. Its intelligent design helps to solve today's communications challenges and is built to scale as your business grows.
NEC offers the SV9100 in two variations to meet the needs of the smallest businesses to those with almost a thousand employees:
The SV9100E is for small to medium businesses that wish to take full advantage of what IP and Unified Communications has to offer.
The SV9100S is for small businesses that just want the basics, but also want a system that will grow with their company and will migrate to an SV9100E when ready.
NEC SL2100
The way we do business and the way we communicate is changing rapidly. Mobility has become the norm. Customer expectations have soared and budgets have shrunk. The SL2100 galvanizes your team. In turn, it creates a positive customer experience that generates repeat business. It's highly cost effective because there's more built-in. With VoIP capabilities, it puts Unified Communications within reach of small businesses or it can be used as resilient TDM solution with future-proof upgrade potential. It also presents considerable savings and functionality over and above alternative hosted solutions. Your business can't afford downtime and nor can your communications. The SL2100 provides a reliable, 'always on' solution. There's less hardware, less licenses and less maintenance to worry about.