Five years after its debut, Microsoft Teams has become the most popular business communication platform with over 270 million monthly users worldwide. And while its growth has been impressive, thanks to its inclusion in Microsoft Office 365 and pressures from the pandemic, that increase is not a sign that Teams is a perfect product.
In fact, while it works fine for peer-to-peer messaging, web conferencing and file sharing, once you activate the Microsoft Phone system to make calls outside of Teams it becomes obvious that key features are missing. Microsoft is not a communications specialist but a software generalist. So, while its Teams Phone offering may work for some small offices, there is a lot that isn't included. With only 80 million voice-enabled users – many of whom use third-party vendors – it's clear that organizations are not choosing Microsoft's VoIP solution and instead continue to use outdated hardware PBXs, missing out on the flexibility and scalability of the cloud.
With this in mind, how can a business that is reliant on MS Teams embrace the cloud and move to a truly unified communication system?
Simple. You help them by using Wildix for their Microsoft Teams PBX integration.
Why Use a Microsoft Teams PBX Integration?
MS Teams Phone System Features
Limited auto-attendant and call routing
Limited call transfer options
No call backs, barge-in or call barring
No detailed call reporting
No call recording
Only available in 33+ countries
Of these, the most-cited missing feature is call recording. Call recording gives you the ability to relisten to customer information or issues, allows you to check call quality and is the perfect tool for training new staff. Yet without connecting to a UCaaS provider like Wildix, Teams does not have the ability to record calls at any level.
Incidentally, this has a knock-on effect on Teams CRM integrations. Microsoft has developed a number of Teams integrations to work with well-known CRM applications including Salesforce, HubSpot and Zoho, but they only work with the regular Teams functionality and have no tie-in with the Teams Phone system. This means that there is no way to automatically log incoming or outgoing calls on any of the CRM platforms, including Microsoft's own software, Dynamics. Of course, as we discussed previously, without automated and integrated features your CRM efforts suffer.
Direct Routing
Microsoft knows that its voice functionality is limited, which is why it offers direct routing to allow third parties to fill the gap. Essentially, direct routing allows you to avoid all of the above shortcomings and still use the Teams infrastructure.
With Wildix, you get a Microsoft Teams PBX integration that gives you all the telephony features a growing business needs to simplify communication and deliver more to the bottom line.
Wildix Call Features
IVR (interactive voice response) and call groups
Call transfer
Callbacks
Listen, barge and whisper
2-way SMS messages (North America and UK)
Call analytics
Call recording
Embedded fax server
Additional benefits to using Wildix for your Microsoft Teams PBX integration are that:
Wildix is available in 200+ countries, with the ability to connect multiple international offices on one cloud PBX.
You get Collaboration and voice together.
Option to use WebRTC Kite
Multiple CRM integrations
Additionally if you have a Microsoft Teams, Teams Phone license or E5 license you can use the Teams dialpad as a PBX client. If your customers want to be able to use the Teams dialpad, this solution is a great way to give them a seamless experience so that they won't even know there is a Microsoft Teams PBX integration running in the background.
Of course, Wildix also offers you another way: a way to have a Teams softphone integration without the need for extra Microsoft licenses.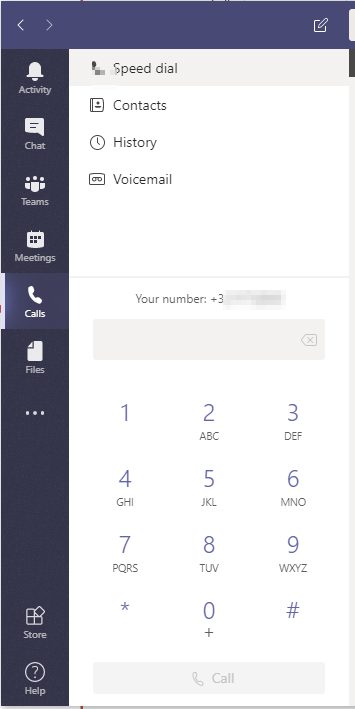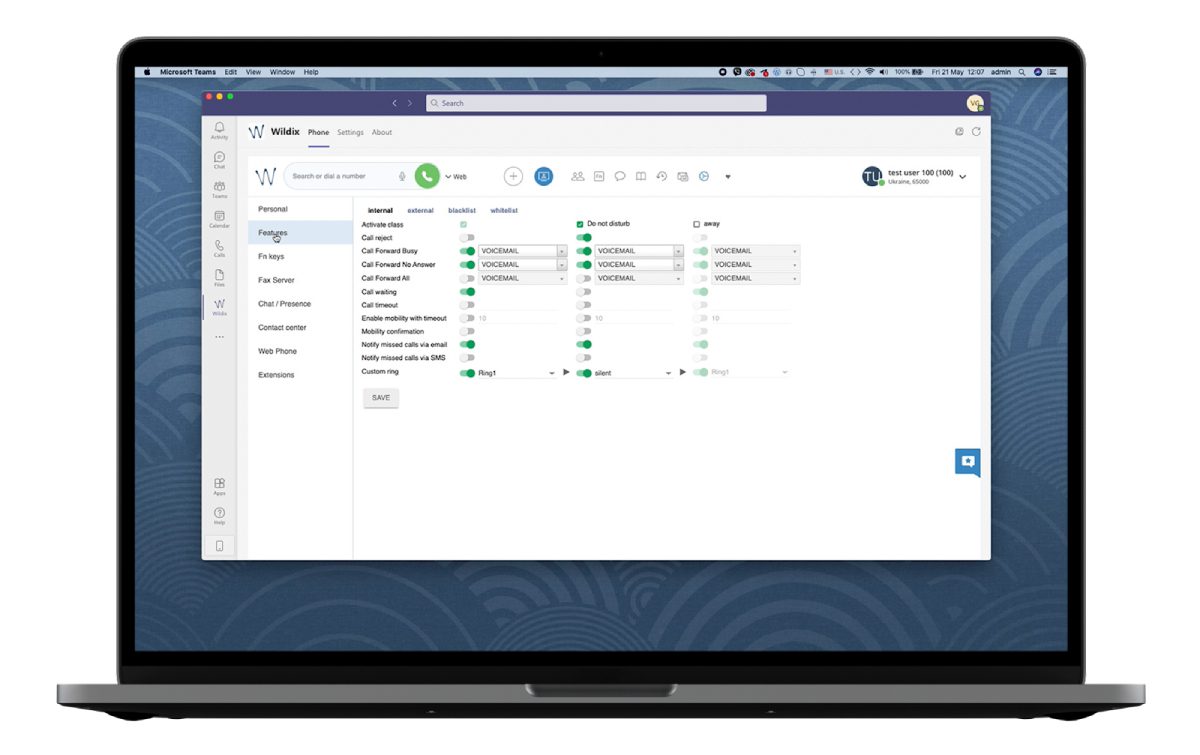 Wildix Teams Integration Plugin
The Wildix Teams integration, or teams4wildix, plugin adds a Wildix tab into both the native app and the browser version of Teams, giving users the ability to place and receive calls inside the Teams interface with access to all the advanced telephony features Wildix has to offer. The Wildix tab uses Collaboration software, giving users the freedom to select which device they want to receive calls from including the Wildix softphone, a DECT device or Wildix desk phone. Collaboration's interface is easy and intuitive to use, so while it differs slightly from the look of the other Teams tabs, users will not need separate training to use it.
The only drawback is that calls through the PSTN are made directly in the Wildix tab and not through the Teams call tab. However, it is the perfect solution for cost-conscious customers. It can also work as part of a hybrid solution, with some users connected through direct routing and others through the plugin.
Approaching Integrations
It may seem counterintuitive for us to suggest that you actively work with Teams, as Microsoft receives 5% of its commercial revenue from direct-to-customer sales and is a direct competitor, but our Teams integration is part of our commitment to helping you.
Not sure how to approach it with your customers? Take a lead from Nutec, a Wildix Gold partner who has found success with the Wildix Teams integration.
"Listen as good partners and simply supply the tools that are being requested," advises Steve Grubbe, Vice President of Operations.
There is no point in trying to convince customers to move away from Teams: "Being a Teams voice supplier has opened more doors and increased our overall solutions that are available to our customers," states Steve.
For other partners looking for the same success, Steve suggests the following:
"Dive in and add demo accounts and use the tools day today. Come up with competitive price models and be open to saying, 'Yes, we can do that.' The combination of Teams and Wildix will set you apart over and above other Teams solutions. When combining Wildix and Teams, you now have a [Wildix]/MS Teams resilient solution — if MS Teams is unavailable, your desk phone will remain operational. In cases where solutions need to be internet resilient, by adding a Wildix hardware PBX, you can also be internet resilient. These are key points that MS Teams-only solutions cannot compete with."
And that's it! Focus on the long-term relationship you are building with your customers. Attend to their needs and wishes, including providing a Microsoft Teams PBX integration, and give them the best service and value through Wildix. Through time, and a little help from you, they'll come to see how there is much more functionality, security and flexibility with Wildix and leave buggy Microsoft behind.
Just remember, while those customers are ready now to hear your message, it won't be long before they'll become tied to someone else's solution. Sell them the Wildix Teams integration now and secure your business for the future.