Command Platform
Connect all Verkada devices to Command, a web-based platform that makes it simple to manage devices at scale.
Strengthen Security,
Simplify Ownership
By managing devices on a secure, reliable and scalable infrastructure, improve physical security across sites and gain insights that drive your business forward.
One Platform to Manage All Devices
Add ten, hundreds or thousands of Verkada devices to Command. Verkada Cloud enables secure, remote access to your sites from any browser or device.
Actionable Insights in Real Time
By aggregating data across devices into a centralized platform, Command provides users with a complete picture of what's going on across sites.
Automatic Updates for Added Benefits
Cloud-connected devices introduce a new level of intelligence and automation. With regular feature and security updates, always stay ahead of the curve.
Key Features
Command provides users with powerful capabilities to simplify and strengthen security across sites. Best of all, new features are released regularly, ensuring that users always have the latest in security technology.
Live Access Feeds
Monitor activity with a live feed of access-based events.
View a rolling feed of live activity across facilities.
Identify users accessing and exiting-based activities
Motion Plotting
Visualize meaningful motion across floorplans.
Track movement across sites with real-time heatmaps
Click camera icon to see a preview of live event
Select scene to view feed and review historical footage
People & Vehicle Analytics
Find person & vehicles of interest using various attributes
Search for individuals using clothing color and appearance
Search for vehicles by color, body type, or make
Timelapse
Watch hourly or daily timelapses of activity in frame
Playback threaded thumbnails to monitor activity progress
View 24 hours of footage in under 30 seconds
Reveal bounding boxes when scrolling over timelapse footage
Live Links
Share secure access to camera footage with authorized users
Share access to sites and camera feeds via link or SMS
Select duration of time that viewers can access footage
Easily add, edit, or revoke user access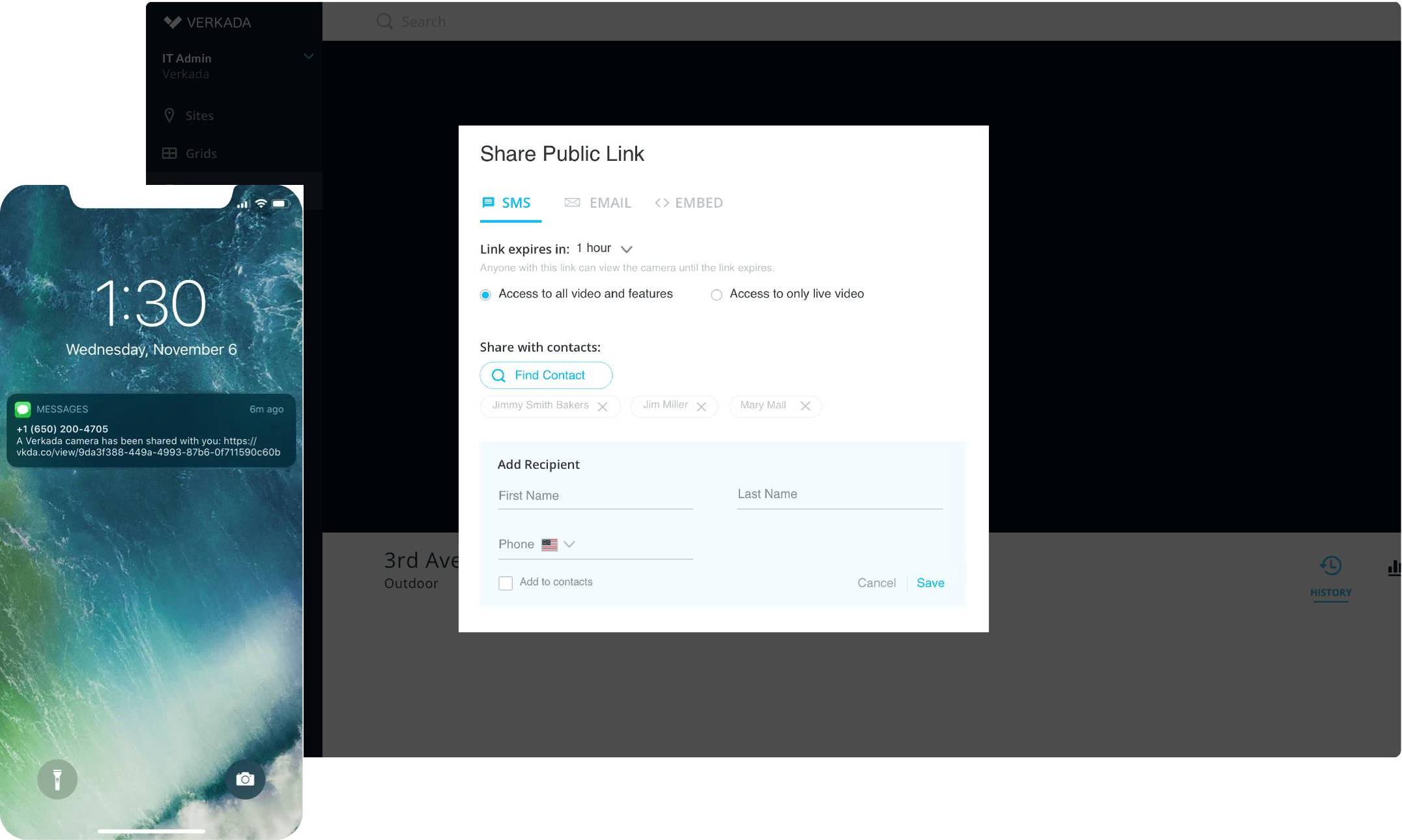 Integrations with Leading Security Providers
We partner with trusted single-sign on and multi-factor authenticators—like Okta, Duo and Azure Active Directory—to ensure that only authorized users can access your organization.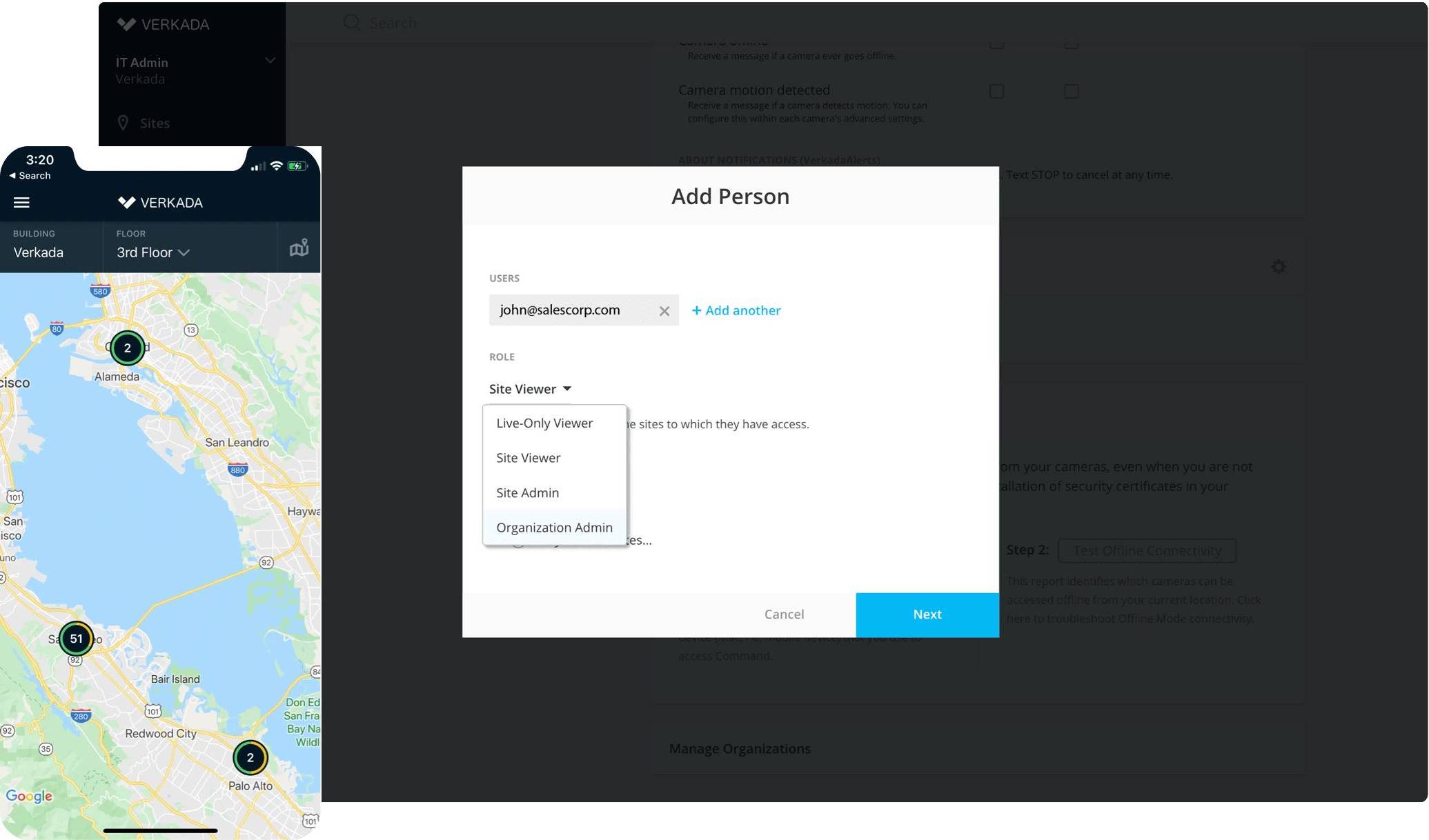 Custom User Roles and Permissions
Security starts with us, but extends to each user who logs into our software. Verkada gives you the ability to control who has access to your system, and what they do with that access.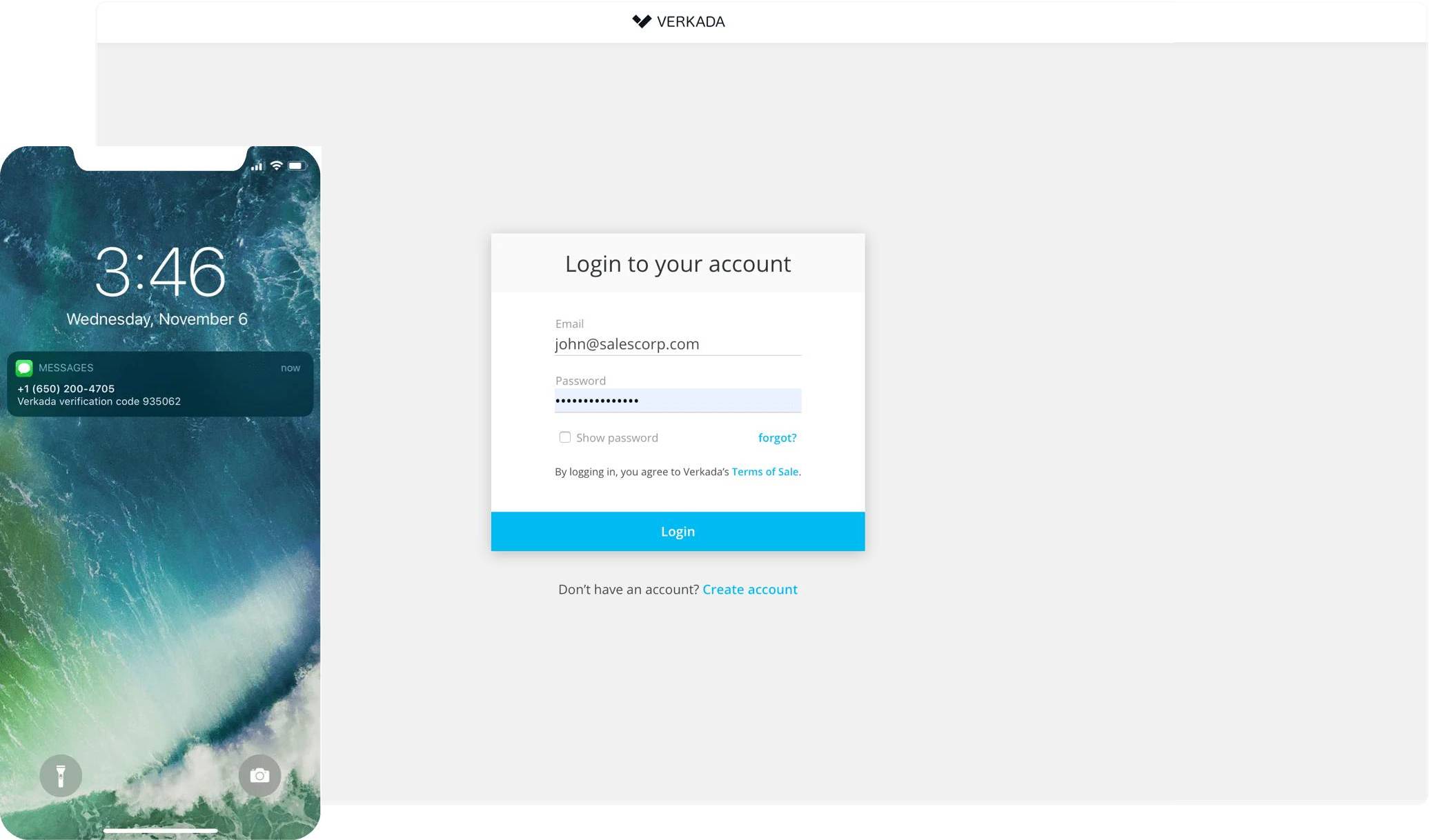 Organization & Device Audit Logs
Track all user actions—for compliance or internal control purposes—with audit logs. By logging all actions within Command, give Admins complete visibility into the usage of their system.