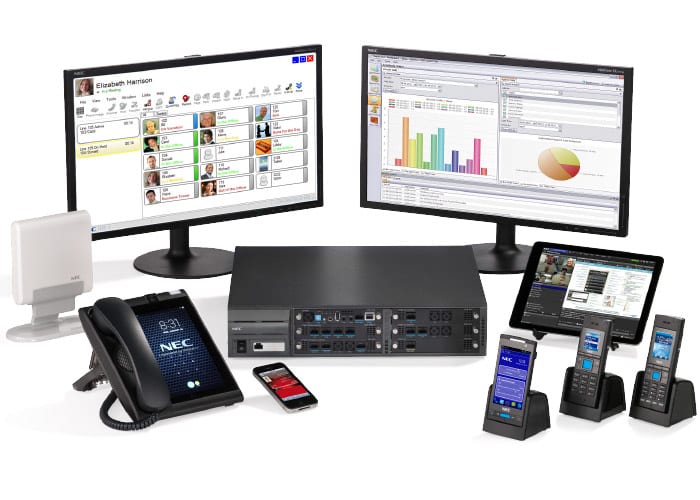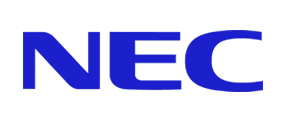 The UNIVERGE SV9100 Communications Server is a comprehensive integrated solution designed to meet the unique challenges of small to medium size businesses. This high-performance, feature-rich solution supports pure peer-to-peer IP telephony connectivity, advanced networking, traditional digital switching, or a combination – all from one solution.
NEC has built smart SMB solutions that align with the demand for new converged infrastructures. Competitive businesses come in all sizes. Successful businesses always have one thing in common: great teamwork. In the age of increasingly disparate working locations and job complexity, communications play a crucial part in every organization's success. NEC's UNIVERGE® SV9100 is the unified communications (UC) solution of choice for small and medium businesses (SMBs) who don't want to be left behind. Designed to fit your unique needs, the UNIVERGE SV9100 platform is a powerful communications solution that provides SMBs with the efficient, easy-to-deploy, mobile echnology that they require. Reliable and adaptable, the SV9100 is built on cutting-edge technology that supports voice, unified communications and collaboration, unified messaging, and mobility out-of-the-box, all the while remaining easy to manage.
From very small businesses to ones with up to almost a thousand employees, NEC offers the SV9100 in two variations to meet the needs of
each:
• The SV9100E is for small to medium businesses that wish to take full advantage of what IP and Unified Communications has to offer.
• The SV9100S is for small businesses that just want the basics, but also want a system that will grow with their company and will migrate to the SV9100E when ready.
Today's SMBs must be powered by smart solutions. That's why NEC provides you with the broadest range of industry-specific  communications solutions—so you can easily make quicker, more informed business decisions, drive loyalty, and keep ahead of your
competitors.

Work together – even though you're apart.
Competing in today's business environment requires agility — when
meeting challenges, making decisions, and delivering products and
services. With more than 115 years of excellence in both Information and
Communications Technologies (ICT), NEC shares its vision through its
award-winning communications technologies.
Innovating for the Future
NEC's experience and innovation enable new approaches to how IT
services are managed and delivered. Cloud delivery, business agility,
real-time collaboration, and reliance on assured services are becoming
essential foundational requirements for the success of the smart and
secure SMB or large enterprise. These pillars are part of a rapidly evolving
technology foundation by means of which NEC is creating new ways for
businesses to grow.
Redefining Communications
A growing business innovates by leveraging the best and most current
information technologies, tools, and products. NEC has created a full set
of unified communications and collaboration applications that operate in
conjunction with our telephony products, acting together as part of a fully
converged easy-to-use IT solution.
Simplify Your Purchase Decisions